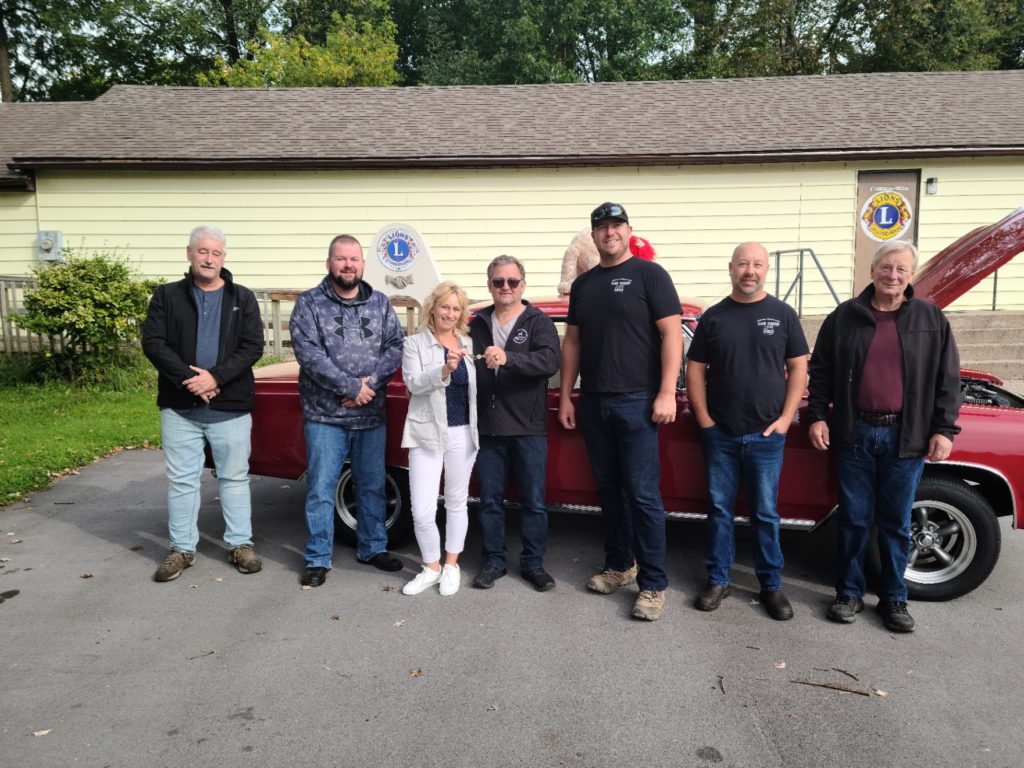 Pictured (L-R) Lion Steve Schilstra, Lion Brian Prins, Cindy and Emile Anhorn, Lion Ryan Van Lochem, Lion Scott Kernicky and Lion Doug Kernicky
Fenwick, Ont. – Members of the Fabulous Fenwick Lion Club Classic Car Raffle Committee handed the keys of the 1965 Chevelle Malibu SS appraised at $40,000.00 over to Emile Anhorn.
Anhorn's ticket number was drawn from the 20,000 tickets that were sold during the annual Classic Car Giveaway. Emile accompanied by his wife Cindy made the trip down from Ruthven Ont.  just west of Leamington to claim their prize.
Anhorn stated that he didn't answer the initial call as it came up as "Unknown Caller," as he recalled the events of Sept 10th.  When he played back the voicemail that was left and heard he had won a car, he thought it was a scam. Anhorn started to do Google searches to see if it was real. "That's when the second call came in and this time I answered it," Anhorn said. "I could hear the cheers in the background that's when I knew something was up."
Anhorn, an owner of a fireplace installation company plans on cherishing his win and is looking forward to taking his elderly father for drives and taking the Chevelle to his local car shows.
This was the first year in the 6 years of doing the classic car raffle that the Fenwick Lions Club worked with an online raffle provider recommended by the iAGCO to sell tickets electronically.
"This streamlined the ticket-selling process," said Lion Steve Schilstra, social media, and communications director for the Fenwick Lions Club. "We were able to sell tickets to every corner of Ontario via the secure ticketing portal that would automatically email the purchaser their tickets."
People were encouraged to go to the Fenwick Lions website via social media ads and mass email campaigns where they could find pictures, videos, and other details of the car. "This allowed the masses to come to us instead of us going to the masses," Schilstra stated about in-person sales vs online sales.
Car Committee Chairman Lion Ryan Van Lochem added. "This has been our most successful car raffle to date."
"The proceeds of this raffle, which we estimate to be around $75,000.00, will be distributed amongst local charities and organizations, as well as Lions Club initiatives such as Lions Foundation of Canada Dog Guide Program and many others." Van Lochem said.
Plans are underway for next year's Car Raffle with a tentative launch date of March 1, 2023.