Donation to The Hope Centre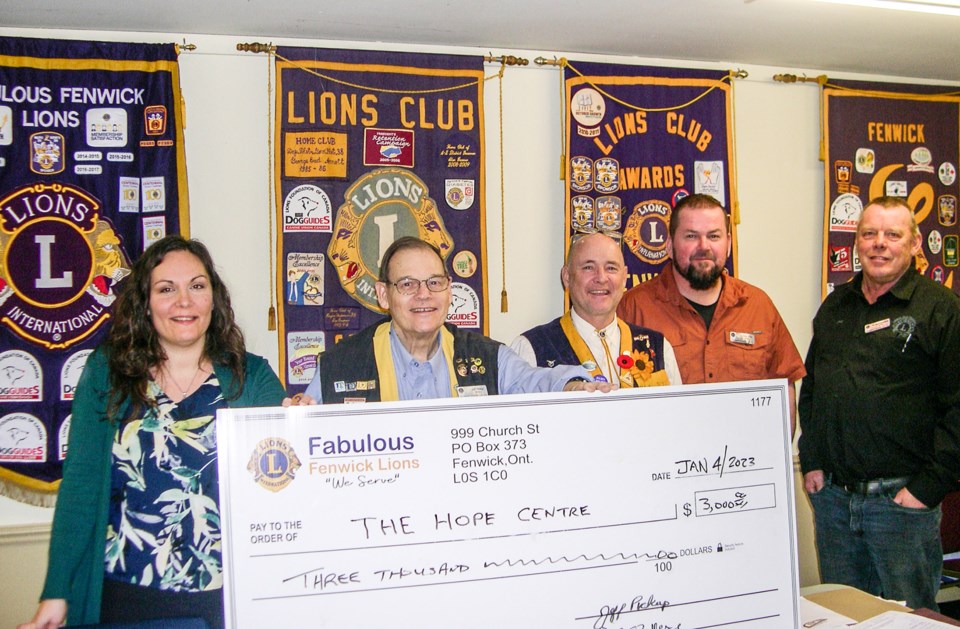 Fenwick Ont. At the Fabulous Fenwick Lions Club Dinner Meeting on January 4, 2023, Jennifer Sinclair from The Hope Center dropped by to receive the club's yearly donation of $3,000 from Lion president Jeff Pickup, and members Rob Henson, Brian Prins, and Joe VanGeytenbeek.
Jennifer updated members on what The Hope Centre was doing for its clients from the start of Covid until now. "It was very informative as our members were not aware of many of the Hope Centre's activities at this time," said Lion president Jeff Pickup.
Donation to Pelham Cares
At our December 7th dinner meeting Greg Lewis of Pelham Cares dropped by to update the Club on what was new at Pelham Cares.
After his update members of our Car Committee along with Lion Chief Jeff Pickup & Ken Suthons presented Greg with our $3,000 donation and 200 pounds of food.
Photo (L-R) Car Committee Lions Brian Brins, Andrew Dominey, Lion President Jeff Pickup, Greg Lewis, Car Committee Chair Lion Ryan VanLochem, Lion Secretary Ken Suthons
Donation to Rose City Kids
At the Fenwick Lions Club dinner meeting on January 18th, 2023 two representatives from Rose City Kids, Sonya Wierenga & Kaitlin Ives, attended.
Sonya updated our members on what programs they were running mentioning they had approximately 600 kids & teenagers participating.
Kaitlin gave an emotional talk on her coming to Rose City Kids at the age of 6 & being associated with them as she grew to be a young woman who is now in her 3rd year at Brock University.
They were presented with the Club's yearly donation of $1,000.
The Lions Club of Fenwick supports the work that Rose City Kids do for the Welland & area kids.
Photo: PDG Lion Fred Arbour, Sonya Wierenga, Kaitlin Ives, Lion
President Jeff Pickup